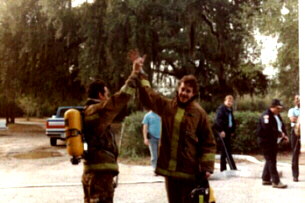 There is only one number you need to remember if you need us
COMMUNITY FIRE AND SAFETY PROGRAM
These services are offered at no charge to the public


PUBLIC SAFETY CLASSES
Safety training classes offered by the Department to the public include:
Home Fire Safety Planning
Operation E.D.I.T.H. [Exit drills for the home.]




Fire Extinguisher Training Regular classes and presentations on fire safety in each Bay St. Louis school, high occupancy residential and commercial buildings.
Even more specialized services are offered to the business community, including inspections and prevention and safety classes for management and employees


Inspection, Evacuation,and Suppression Plans
A thorough inspection, evacuation, and suppression plan has been developed to
address high rise/high occupancy buildings and areas in Bay St. Louis. These plans
include all schools, Hancock Medical Center, the three local residential care facilities
and Casino Magic, casino and hotel, as well as the central business core of our historic
downtown.

Our engines, rescue vehicle, and chiefs carry a copy of these plans at all times. The
plans are specific to each building indicating all entrances and emergency exits, water
valves, hazardous material usage and storage areas, and other pertinent data that the
site supervisor uses to determine the fastest, safest suppression plan for any
emergency.

Twice each year the department conducts evacuation drills with each school in the
city; public and private, and residential care centers. Child care center drills are
scheduled based on number of children registered.

These drills are effective in identifying problems that would delay the department's
suppression of a fire.

Some external problems that have been identified include the distance of
operating hydrants from a building and having sufficient hose on board to
address the fire, the need to change travel routes to avoid school zones
and not put children at risk.

After drill critiques give each participant the opportunity to amplify problems that, with
group discussion, can be solved. These drills are very effective in maintaining a well
trained, efficient fire fighting unit. The drills keep our public well trained in prevention
and evacuation methods. Prevention is always preferable to suppression.

At residential care centers management and residents are very cooperative. The
residents appreciate the seriousness of evacuation and the special care they need
because of age or infirmities. They now understand the importance of the "buddy
system" in accountability following evacuation. Our firefighters are prepared to
evacuate those persons with special needs, because of pre-planning. The plans
indicate where those residents are located in each building, on each floor.

Each commercial and public establishment in Bay St. Louis receives a courtesy
inspection annually, to identify deficiencies that could cause serious problems during
a fire emergency. A deficiency list is provided to the owner or management and a re-
inspection is scheduled within a reasonable time. These inspections are very effective
in the department's planning and training process.


| | | |
| --- | --- | --- |
| | | |
| | FireWorks | |
The sale of fireworks from a temporary structure is prohibited by the Bay St. Louis Code of Ordinances Further, the sale of fireworks within the city is allowed as follows: on the holidays of January 1, with sales beginning on December 26 and July 4, with sales beginning on June 30. Discharges at any other time without the express permission of the Mayor are prohibited.
For more information please call the Fire Department, 228- 467-4736.

BURN PERMITS
Burn permits for residential and commercial use are available at the Fire Station during regular business hours. Criteria for each burn are specific, including beach bonfires, and are outlined for each applicant.



DOLL AND TOY FUND
The Hancock County Doll and Toy Fund, a United Way of South Mississippi agency, is sponsored by the Department. The Fund has provided Christmas toys for Hancock County children in need for over two decades.


FIRE PREVENTION WEEK
The Bay St. Louis Fire Department presented Fire Prevention programs everywhere they were invited. Prevention programs were presented at the eight local schools and three day care centers including Bay-Waveland Headstart, Camp Magic and the Methodist Day Care Center. prevention and safety classes were taught at the Senior Citizens Center and local civic organizations including Rotary, Kiwanis and Exchange clubs. Over 1200 children and adults participated in these programs. 114 Alcan Cable , Hancock County Child Development and Bay High Staff members were trained in proper fire extinguisher use.


PUBLIC SAFETY DAY
Every firefighter in the department participated in the city's first Public Safety Day
event. Public Safety Day was an excellent opportunity for our communication efforts.
Public Safety Day was an opportunity for the public
to meet their fire department in a non-threatening situation.
Officers were on hand to demonstrate CPR, fire prevention and safety techniques for
seniors, how the "Jaws of Life" was worked to extricate a victim from a crashed
automobile. They demonstrated putting out a burning car fire, how to use an
extinguisher. Children were treated to a trip through a "smoke house" specially built
for children to learn how to stop, drop and roll and safely crawl through a smoke filled
room where everything is their size. They had the opportunity to participate in a
coloring contest and win savings bonds. Each child that participated in events was
recognized with a certificate of participation issued by the Mayor.



"WILD ABOUT FIREMEN"
Over 400 children registered for the Hancock County Library System summer reading
program held at the depot for "Wild About Firemen", a special prevention program
presented by the department in cooperation with the library. Again, the "smoke house'
was brought in as a learning tool. The adult audience exceeded 75 persons.

Bay St. Louis Firefighters presented a program that was innovative and entertaining
in helping children learn about fire safety and prevention



Emergency Response and Mutual Aid
Medical assistance is by far the crisis we respond to most often. These calls come
from individual residents and American Medical Response, the ambulance service
covering the Bay St. Louis area. Many times our department can respond to the
scene much more quickly and stabilize the crisis until AMR arrives.

Medical assistance is an expected service of the Fire Department. However, it is a
service that the State Fire Rating Bureau will always list as a deficiency. It has been
decided that this service will continue locally and Bay St. Louis is joined by all other
coast fire departments who respond in the same manner.

Automated alarm response is required by state law. In most cases automated alarms
are activated because of faulty equipment, power surges or outages, or accidental
operation by the property owner. Rarely does our department respond to an actual
emergency fire situation.

The Fire and Police Department are discussing various methods
to reduce the nuisance response calls
that reduce our job efficiency and
quick response time to actual emergencies

Service calls are part of our daily routine. We respond to assistance requests from
the public and other city departments when there will be no jeopardy to emergency
services. These service calls are non-fire related, such as providing assistance to
someone who has fallen, and can't get up without assistance, or helping public works
flush out culverts.

While service call numbers appear to be high,
it is very positive that our prevention services have been so effective
that we can offer non-emergency help.


Many of these requests for assistance can be scheduled in the daily work plan.
Rescue calls include those response calls to traffic and home accidents. The most prominent of the rescue calls this year was responding to the family whose son became tangled in electrical wires and was being electrocuted. Our rescue response was critical to saving this child's life.The total number of fire calls is less than the number of rescue calls for which we respond. We continually work to reduce these numbers through public education and other methods. One method we have recently instituted is a revised burn permit. This new permit reduces the opportunity for unmonitored, out of control trash fires. The permit holder is now more accountable for his activities. The new permit also holds someone who complains about trash fires accountable for their complaint.


MUTUAL AID


The Bay St. Louis Fire Department is part of a mutual aid response team that includes
Hancock County Fire Services
Bayside Park
Clermont Harbor
Diamondhead
East Hancock (Shoreline Park)
Fenton
Kiln
Leetown
American Legion Post 58 (Standard)
West Hancock (Pearlington)
City of Waveland
Stennis Space Center
All other Gulf Coast municipalities

Mutual aid is given at the request of the department with jurisdiction over the area of the emergency. One of the Assistant Chiefs, the weekend Duty Officer, or me will be notified immediately of the request and will be one of the supervisors to respond to the scene. We respond with Engine 1, a driver, and one firefighter. The Shift Supervisor will not be on the response team. At no time is the City of Bay St. Louis in jeopardy by an absence of manpower or equipment. The response team reports to the Officer-In Charge for instructions and placement of equipment and follows standard operating procedures for mutual aid that have been established by this department.